Our Team
LEADIN – The Acdemy of Talent Development is a brainchild of Niranjalli. She is a Coparate Trainer, Coach and a Consultant. She had been working for Multi National Organisations in past eighteen years, which includes HSBC Bank ,as a Trainer and Coach, HELA Clothing Pvt Ltd as a Group Human Resource Development Manager and Currently working as a Senior Manager Sale Training and Development for AIA Sri Lanka. She carries over 20 years of teaching and training young students.

Niranjalli's passion is people development and she believes setting the foundation for future leadership is at young and tender age. She is an ardent believer that "Leaders are Made" with the appropriate skills, knowledge and guidance provided from young age.Her work in Multinational organisations as a Coach & Trainer is immense assistance in developing young Leadership. Niranjalli holds the foloowing qualifications :


Master of Business Administraion (MBA) - University of Southern Queensland Australia with speacilaization in Strategic Human Resource Development.
Member of Association of Business Executives – MABE UK
NLP –Practitioner & Coach – Institute of Neuro Linguistic Programming Sri Lanka
Advanced Diploma in Teaching, Training and Assessing Learning - City & Guilds UK
Gold Medal – London Academy of Music & Dramatic Art (LAMDA) - Verse & Prose
/
Mr Kumara Samarakoon is educated at Kingswood College, Kandy and a father of two children. He has an undergraduate son and teen daughter. Kumara comes from diversified environments with exposure to dealing with Foreign nationals . Kumara is a person who has take-up teaching as a passion. This passion led him to assist the children from age 4 years onwards. He has wealth of experience in teaching young children to the level of Adults for over 10 years.

He believes in laying a foundation in English grammar as the key to have a successful school career in all aspects, especially students who are following the International School Syllabi. He has been with LEADIN The Academy of Talent Dev elopement nearly a year.

Kumara teaches grammar for all levels of students at LEADIN- The Academy of Development. He is an extremely dedicated teacher.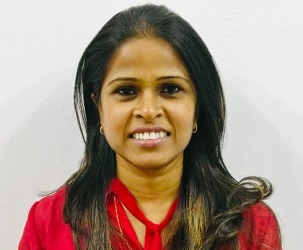 Saku is educated in Kandy at Mahamaya Girls College. She Holds a BSC degree in IT from University of Manchester UK. Currently works as a Quality Assurance Lead at Wavenet International. A BPO that supports Telcommunication Industry. A mother of 2 kids. As a young student she followed the speeech and Drama Classes conducted by Ms. Shelanee De Saram. She has a passion for Teaching children and been with "LEADIN" for past 8 months. Saku assits and supports to teachthe junior level students at LEADIN The Academy of Talent Development. Saku's naturing nature is a great asset to Academy!
Testimonials
I truly see a very successful growth in my two kids Sheynil and Tushyil.. from the day one to date , both my kids have improved their performance skills.. the difference that I see in this class is our kids gets more exposure where, when they grow up how to handle the corporate world on their own and they are very confident about that... I think it's simply because the experience that she got from the places that she worked as a corporate trainer.. so all credit goes to you Niranjalli for your amazing effort... All the best for everything !!!
This is an excellent place where my children love both the lessons and experience. The methods used here are innovative, transformative and targeted in making a positive change in the child through interesting activities. Niranjalli being a corporate trainer and a coach is delivering a balanced content using her years of experience in the top corporates in the country to mould children as future talent.
Not like our days, every kid will have a degree today and tomorrow they have better access to education however they don't have opportunities to develop skills which is increasing in demand everywhere and in any profession, means skill and talents will matter for their success in future. LEADIN is for skills development, I am so fortunate to see my kids develop their skills day by day. Thanks to LEADIN I am confident that they are well equipped to face future challenges.